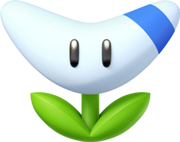 The
Boomerang Flower
is a new item found in
Mario Kart 8
.
Boomerang... Flower?
Edit
It acts just like a boomerang, making it so you throw it forward and it comes right back to you. However, there is a bit of a twist. When the boomerang comes back to you, you can throw it again, a total of 3 times. If you throw it forward and you miss your target opponent, you can still get a hit when it comes back towards you.
MK8 Testing Facility
Edit
Nintendo released videos all about the new items in Mario Kart 8 in the theme of a testing facility. These videos, of course were called the "Mario Kart 8 Testing Facility." This here is the video they released for the Boomerang Flower:
Ad blocker interference detected!
Wikia is a free-to-use site that makes money from advertising. We have a modified experience for viewers using ad blockers

Wikia is not accessible if you've made further modifications. Remove the custom ad blocker rule(s) and the page will load as expected.