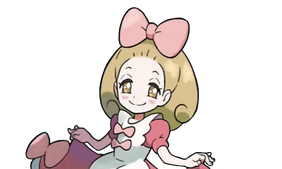 "

Shh. Rest now and close your eyes... You won't ever need to open them again...

"

— 

Fairy Tale Girl

 • Pokémon X and Y
Fairy Tale Girls, as their name suggests, are little girls who use Fairy Pokémon. Often when they speak, they will utter bizarre and sometimes eerie things. In battle, they can appear with Hex Maniacs under the name "Mysterious Sisters."
Ad blocker interference detected!
Wikia is a free-to-use site that makes money from advertising. We have a modified experience for viewers using ad blockers

Wikia is not accessible if you've made further modifications. Remove the custom ad blocker rule(s) and the page will load as expected.