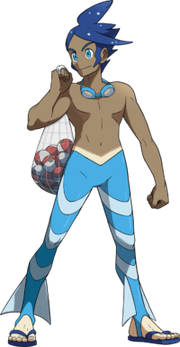 Marlon (Japanese シズイ Shizui) is the Gym Leader of the Humilau City Gym. He specialises in Water-type Pokémon. He gives the Wave Badge to Trainers who defeat him.
CARRACOSTA
Level: 49
Gender: Male
Ability: Sturdy
Moves: Smack Down, Shell Smash, Scald, Crunch
Item: None
WAILORD
Level: 49
Gender: Male
Ability: Water Veil
Moves: Amnesia, Scald, Rollout, Bounce
Item: None
JELLICENT
Level: 51
Gender: Male
Ability: Cursed Body
Moves: Brine, Recover, Scald, Ominous Wind
Item: Sitrus Berry
Marlon is the second Water-type Gym Leader in Unova.
Ad blocker interference detected!
Wikia is a free-to-use site that makes money from advertising. We have a modified experience for viewers using ad blockers

Wikia is not accessible if you've made further modifications. Remove the custom ad blocker rule(s) and the page will load as expected.